Becky Staniforth
Personal details
Age
Unknown
Family
Unknown
Nicknames
Bex



"Becky is a right tart and spends most of her time eyeing up blokes, drinking more than Pancho and being lazy as fuck. Only joking. I think the 4 of us can be very grateful to Becky for the full on hard work she done for the show. Not only was she up at the crack of dawn hung over, just to get us idiots working, but she also got us into load of trouble and had to deal with anything and everything. "
— Pritchard's description
Becky Staniforth was the original director of Dirty Sanchez, camerawoman and producer. She directed only the first series of the show and never directed again. Though it is unknown why she left after the first series, it is presumed she didn't think it would go anywhere or she wanted to get on with her own life. There were many rumors about why she left one of which was that she was starting a family in which she didn't want the young ones to get influenced by the obscene nature of the show, rumors of Becky having to look after her mother, rumors She had a falling out with the crew, the list goes on forever. That said however, she did stay onto series 2 as producer only.
Becky only had minor appearances on Dirty Sanchez itself, she would be seen filming stunts or pranks and or partaking in some of the Unseen stunts such as Cork. According to Pritchard she was responsible for most if not all of the stunts from the first series he even states that she may have been the influence for Dan's gross out stunts.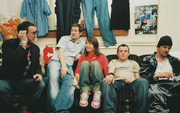 Becky was originally born and raised in Edinburgh, Scotland. She studied media and took up an interest in stunt shows after Jackass aired. She discovered the Sanchez boys after seeing their wacky skateboarding behaviours and decided to make her break away show "Dirty Sanchez" After the first series was met with a mixed reception she stopped being a director and moved on, it's unknown if she still stayed with the show through series 2-4 as a camerawoman or just a producer. She moved to London in 2003 it's unknown if she still lives there.
Becky is the only female to have performed stunts with the Sanchez boys.
Community content is available under
CC-BY-SA
unless otherwise noted.