Behind the seven deadly sins
Details
First aired
2007
No. of episodes
Seven
Previous series
European Invasion
Next series
None

(Note: Sanchez Get High was a spin off)
"This new MTV series takes Dirty Sanchez to a new level of depravity"
— Blurb on cover of the DVD
The fourth series featured seven episodes that goes behind the scenes of the movie and shows the boys reactions to each sin that they had to perform in each of the countries.
Similarly to the third series, each episode was set in a different country. However in this case it follows the same pattern of the movie (Sloth,Wrath,Lust,Envy,Pride,Gluttony and then Greed) It also gives the viewer a guide through what was happening during each stunt and answers questions to why the boys did particular stunts. The series also highlights some stunts that were not featured in the final cut of the film.
Episode guide Edit
Reception Edit
The series was only shown once on TV unlike the other seasons that were repeated on TV, so many missed the series and the only way to see the show was to buy a DVD. Unlike previous series, this series was mediocre among fans. Though not hated, some wished that the series offered more, this most likely stems from the fact that unlike the last three series this one is more of a behind the scenes documentary of the film and didn't feature any new stunts apart from what was shown in the film and the DVD extras.
DVD Release Edit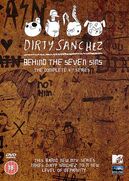 Like previously the series was released on to DVD. It featured the usual things that the previous DVDs offered as well as some advertisements for the movie. It contained a image gallery and a nike Put it where you want it tour which was filmed after the series.
This is the first and only series to not use the usual Dirty Sanchez theme tune.
This series is the only time fans could get Dan and Pancho's behind the scenes info on the film, as both Dan and Pancho never turned up for the commentary for the film, with even Dainton, Pritchard and Jim Hickey not knowing where they were.