Bum beats
Information
Style
Impact
Participants
Pancho

Martial Artist

First Appearance
Family and Relationships
Last Appearance
Family and Relationships
This was a stunt from the first series of Dirty Sanchez involving only one Sanchez member, Pancho.
Recipe for disaster
Edit
Martial Artist
Wooden sticks
Arse
Slap bang wallop
Edit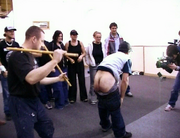 The Sanchez boys met up with a professional kick boxer in a martial arts centre. Lee Dainton and Pancho took part in some of the events already. One of the final stunts to be performed was involving Pancho and a martial artist. Pancho bent over and dropped his trousers and pants while a martial artist demonstrated what he would do to Pancho on a punch bag. The martial artist then thwacked Pancho across the cheeks in quick succession with teh wooden sticks.
Aftermath
Edit
Pancho got up immediately and screeched in pain. He then revealed a massive red mark across one cheek.

Community content is available under
CC-BY-SA
unless otherwise noted.