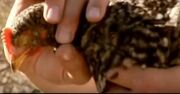 "Dainton: What's his name?
Pritchard: Derek.
Dainton: Derek??
Pritchard: Yeah. Derek-Derek the chicken. "
— Pritchard in mourning while eating Derek with the boys.
 Derek the Chicken was a chicken that the Sanchez boys had to kill in
the movie
 in order to survive in the desert. It was one of the creatures killed in the
Come to Jesus time
stunt.
Before the killing the Sanchez boys had to kill and eat a scorpion and a Tarantula. Their next bit of food was "Kentucky fried chicken" which features a chicken from Kentucky and the boys had to fry it. The boys had to eat the chicken in order to survive the desert but all four of them were reluctant to kill the chicken.
"If I can't kill it I won't eat it!"
— Pritchard
 Pritchard refused to kill the chicken, going as far as saying he wouldn't even eat him and even refused to watch as he looked away and tried blocking his ears for the sound that was to come.
Dainton
 was the only one who would murder the chicken, and even he was uneasy about having to do it, Dainton tried putting it out of it's misery the painless way by holding it's next and suffocating it. Dainton then snapped its neck and threw it to the ground. Afterwards the chicken was cooked and eaten.
Aftermath
Edit
All the boys felt quite bad for having to kill Derek just to stay alive in the desert, however they all agreed that he tasted nice. It is worth mentioning that despite having broken his neck after Dainton threw Derek to the ground he is shown without a head, this is because Dainton didn't actually kill the chicken; in the film commentary Dainton explained what wasn't shown was that he couldn't break Derek's neck and he soon started pecking him, leading to Dainton throwing him to the ground and Mykel Hawke cutting his head off.
During the commentary for the film, and in regards to this section Pritchard said he was seriously considering not eating meat again after the incident with Derek despite how much he likes KFC according to the others, however years later this actually happened, Pritchard became a vegan along with getting into better shape health wise and in the late 2010s he returned to tv with a new show called Dirty Vegan, showcasing his new chef skills and vegan recipes with help from Dainton behind the camera according to the first episode's credits, with the show itself having a positive reception from the public.
Controversy
Edit
This scene in particular caused some controversy as many percived it as borderline animal abuse. The excuse was that the Sanchez boys would starve in the desert if they didn't kill and eat the chicken.
Gallery of chickens
Edit
Community content is available under
CC-BY-SA
unless otherwise noted.