Dirt bike
Information
Style
Messy
Participants
Dan Joyce

Unknown biker

First Appearance
Episode one
Last Appearance
Episode one
This is an unseen stunt that briefly appeared in one episode of Dirty Sanchez.
Recipe for disaster
Edit
Stunt bike
Rope
Something heavy
Wet dirt
Face
Messy, Messy, Messy...
Edit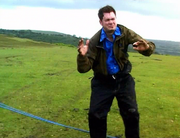 Dan positioned himself behind the person on a stunt bike. The bike was tide to something heavy, presumably a car so it wouldn't speed off. The biker revved up his motors and made his back wheel turn at a high speed. Upon doing so the wet dirt under the bike wheel flew right into Dan's face, eventually the bike stopped moving and Dan was left with dirt all over him.
Community content is available under
CC-BY-SA
unless otherwise noted.