"In 2005. Three Welsh dropouts, one warped Southerner and me, Johnny B. Embarked on our tour round Europe"
— Johnny B's introduction
Series three of
Dirty Sanchez
saw the boys going around Europe to do their European tour.
This time the boys travel country to country do their European tour. Each week they would be in a different European country and constantly doing stunts while also being interviewed on their thoughts on the country they're in or what they have been experiencing while on the tour. The boys are joined by their manager Johnny B, who is meant to keep them in line but many fails at that and soon things get out of control. Throughout the series
Pritchard
and
Dainton
's
rivalry
becomes a common theme as both of them prank or attack each other.
Episode guide
Edit
| Episodes/countries | What happens |
| --- | --- |
| Scandinavia | The boys jump in ice and the show was a success. Dainton vs Pritchard begins. |
| Germany | The live show unsuccessful. |
| Czech Republic | Pancho and Pritchard gets married. |
| Greece | The boys ditch Johnny B to go by themselves to a show. |
| Italy | Pritchard is constantly tortured by Dainton. The rest of the crew are going nuts too. |
| Spain | No tour bus they have to walk and camp for their final show. |
Reception
Edit
The Series met with positive reviews. One of the strong points of the series was the rivalry between Pritchard and Dainton, sometimes getting to boiling point it was certainly the highlight of the series.
DVD Release
Edit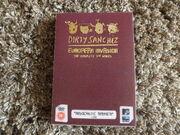 Like the rest of the series, European Invasion was given a DVD release. Like before it contains over three hours of deleted scenes as well as unseen footage from
Viking Village
, extended gigs and Pritchard getting shot. The DVD also includes a photo gallery like the rest of the DVDs.
Photo gallery
Edit
Community content is available under
CC-BY-SA
unless otherwise noted.