Front end and Rear end

Details
First aired
2nd July 2003
No. of episodes
Eight
Previous series
None
Next series
Jobs for the boyos
"This is the story of three mates from the Welsh valleys and one warped Southerner. They met through a mutual love of skateboarding and bound by a complete disregard of their personal safety. This is Dirty Sanchez"
— The introduction to each episode
Front end and rear end is the first Dirty Sanchez series and serves as the introduction the the Dirty Sanchez world.
Premise
[
]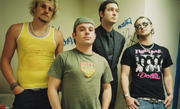 Unlike most stunt shows, this show had a premise running along in the personal background. In this series it followed the background of each Sanchez, Pritchard , Pancho , Dainton and Joyce. The personal backgrounds are revealed in interviews by the family members, friends and even the Sanchez crew themselves. While the personal stories are being told there are stunts added in showing off the pain factor and what the crew are capible of.
Episode guide
[
]
Episodes guide
Episodes
Subject Matter
Episode one
Introduction to the world of Dirty Sanchez
Rivalry
Introduction to the

Dainton vs Pritchard rivalry

Personal Lives
Find out about the lives of each Sanchez
How far can you go
This shows off how far each Sanchez is willing to go.
Career
This reveals what each Sanchez wanted to do when they were older and what they do now as a career.
Family and Relationships
The family side of each Sanchez.
Fears
The fears of each Sanchez.
Psychiatric evaluation
A Psychologist evaluates each Sanchez's mental health.
Reception
[
]
The reception of the first series was mainly mixed to positive. Many criticized the lack lustering events of stunts and pranks while some others complained that the series is a ripoff of Jackass which was running on the same channel at the time. It was praised for raising the level of what stuntmen can do on TV and praised it for being its own little thing.
DVD release
[
]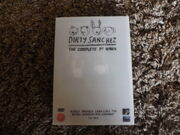 Series one has been released for DVD. It contains unseen stunts and extended footage. It also contains commentary,photo gallery, cast and crew bios, Darkest top ten and short cuts. Other DVD releases included the other series as a complete collection.
Gallery
[
]