"Glass hand walk? I ain't fucking doing that."
— Pritchard before the live show
This was a live show stunt that appeared in the second series of Dirty Sanchez and featured only one Sanchez boy with their boss assisting them.
Recipe for disaster
Edit
Broken glass bottles
Walkway
Hands
Absolutely shattered
Edit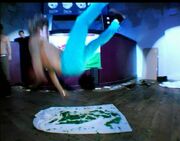 Pritchard was told that he had to do a hand walk across broken glass, he didn't the sound of it as he is unable to do hand stands and a hand walk was impossible. During the live show, the martial artist boss had to hold Pritchard's legs while he "hand walks" across the broken glass. After doing the hand walk Pritchard jumped and slammed himself onto the glass.
Aftermath
Edit
Pritchard had glass shards in his hands and cuts all over. The jump was something that Pritchard regretted as he had deep cuts from the glass.
Community content is available under
CC-BY-SA
unless otherwise noted.