Grinding the rail

Information
Style
Impact
Participants
Dan Joyce
First Appearance
Personal Lives
Last Appearance
Personal Lives
This was a minor stunt that appeared in the first series of Dirty Sanchez and only featured one Sanchez boy.
Recipe for disaster
Edit
Amateur grind rail
Small compact room
Weight
"Follow me, set me free..."
Edit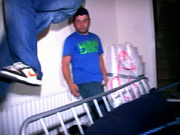 The grind rail was made using random pieces of scrap such as a rail, rope and some boxes. Dan's job was to grind the amateur rail despite it being in a small room. Dan jumped and successfully grinded the rail but still fell on his back.
Aftermath
Edit
Upon falling on his back Dan was in a lot of pain and didn't want to repeat the stunt.

Community content is available under
CC-BY-SA
unless otherwise noted.