This article's content is marked as Mature
The page Naked Paintball contains mature content that may include sexual references, and/or graphic violent images which may be disturbing to some. Mature pages are recommended for those who are 18 years of age and older.
If you are 18 years or older or are comfortable with graphic material, you are free to view this page. Otherwise, you should close this page and view another page.
"I'm in the nude for fighting!"
— Dan Joyce
Naked Paintball is a stunt that involves the Sanchez crew to shoot eachother with paintballs while naked. It first made an appearence in the first episode of Series one then made a second appearence in the movie where Pritchard was told that he could break the World record by being shot 103 times, there was no world record.
Recipe for disaster
[
]
Paintball guns
Wear nothing but shoes and a helmet
Good aim
Wood or paintball shooting range.
Front end and Rear end
[
]
The first part involved the Sanchez crew simply firing upon each other while naked, Pritchard was shot in the cheek resulting in bleeding. The point of this was to run, while naked, over to a wooden fence and jump over a wooden fence while being shot by paintballs. The first to go was Dainton who ran straight to the wooden fence and jumped over it swiftly. However he was shot in one of his testicles.
"My friends are sadists so I thought I'll walk it."
— Pritchard before his walk of pain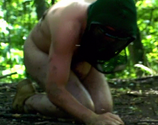 Pritchard decided to walk his run in hope his friends would let him off...he was wrong. Upon realizing this Pritchard ran the last section of the run. Pancho was next and once again ran as fast as he could. He dodged a lot of the paintball bullets but caught his testicles on the wooden fence when trying to over it. Joyce was the only one who didn't run.
Aftermath
[
]
The aftermath of the naked paintball resulted in Dainton feeling paralysed on one side due to being hit in one of his testicles. Prichard suffered the worst injuries by being shot in the cheek of his arse, he started bleeding. Joyce's injuries were unknown as he didn't do the run. Pancho was in a lot of pain after being hit in the testicles.
The movie
[
]
See: World Record break
Gallery of pain
[
]
Trivia
[
]
This was the first shooting stunt as well as the first stunt involving paintballs.