This was a minor back stage stunt involving Pancho and Jukka from The Dudesons and it was featured on The Dudesons.
Recipe for disaster
Edit
Wooden log
Strong Finish man
Nuts
Backstage chaos
Edit
Backstage The Dudesons and Dirty Sanchez crews decided to have some fun. The main target for their fun was poor old Pancho. With a wooden log, Jukka decided to put it between Pancho's legs and lift him up. He did so until Pancho started panicking and Jukka put him down.
Aftermath
Edit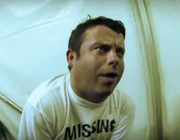 Pancho obviously had sore testicles. Jukka then asked him if he wanted to be choked
...
Community content is available under
CC-BY-SA
unless otherwise noted.