"Tonight. The psychologist looks into Pritchard's pain barrier, Dainton's disorder, why Dan does this(shows him being sick on the Pube pizza and then eating it) and why Pancho puts up with it all"
— The opening narration
This is the final episode of Series one. This special takes a look back at the boy's behaviour while a psychologist (Dr Glenn) looks at what they may be suffering or real intentions.
Introduction
Edit
"you've got one extreme risk taker, you've got a feller that's a bit obsessional. Another one there who likes to be the comedian and you got another one who seems to primarily to want to involve himself by promoting these behaviors of the others and laughing himself silly"
— Dr Glenn's evaluation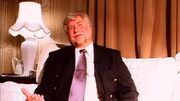 At the start all the Sanchez boys are located sat on a table waiting outside for the psychologist to come up with a evaluation. Dr Glenn has the task to diagnose each Sanchez by watching the things they do. Both Pritchard and Dainton believe that he'll come up with the conclusion that they're all "fucked up"
Dr Glenn however doesn't think that any of them are clinically sick. He believes it is a due to their personalities.
Stunts Featured
Edit
Pritchard
Edit
"Nudity is a way of getting yourself noticed"
— Dr Glenn
Dr Glenn begins with the nudity problem that Pritchard has, he believes that Pritchard is a narcissist and wants everyone to pay attention to him. He says that if Pritchard had his way of making everyone naked, he would get bored by it. Dr Glenn believes that Pritchard enjoys the shock value.
Dr Glenn sees Pritchard as the risk taker and believes that Pritchard needs to take risks in order to see if he is truly alive and to get an adrenaline rush.
Stunts Featured
Edit
Dan Joyce
Edit
"He does want to be noticed I'm sure so that shocking people to him would be erm give some satisfaction"
— Dr Glenn
The psychologist acknowledges that Dan doesn't care about what people think of him but like Pritchard thinks Dan is a narcissist, maybe even more so.
Dr Glenn thinks that Dan is only there for support and is only on the side line. He also says that Dan only does stunts when pressured and the gut wrenching stunts are for show. He portrays Dan as someone who enjoys the pain of others.
Stunts Featured
Edit
"Pancho's the clown of the team"
— Dr Glenn
Straight away Dr Glenn states that Pancho is the clown of the Sanchez boys and is usually the brunt of everyone's jokes because of his unusual body size, his reactions and his alcoholism. Dr Glenn believes because Pancho has no real authority and so Pancho has to fight or power and control.
He thinks Pancho is the most responsible of the group and the only one that doesn't have the intent of harming the others, instead he uses himself as a object of abuse. However he believes that his size he is more likely to get drunk.
Stunts Featured
Edit
"Dainton has certain obsessional compulsive traits on his own admission.Which is rather err err unusual in a thrill seeker..."
— Dr Glenn
He finds Dainton usual for having OCD due to his risk taking behaviour.H e believes that Dainton may of suffered small brain damage from his father accidentally chucking him over his shoulder.
He portrays Dainton as the leader that the others follow. He thinks Dainton enjoys pain and the stunts that he does.
Stunts Featured
Edit
At the end two of them are narcissists, one has small man syndrome and the last is an OCD thrill seeker.
Meanwhile Dainton and Pritchard discuss that normal people are the real freaks as they follow the order of getting married and having children. Dan Joyce points out to the two that both were getting married and expecting children, basically calling them hypocrites.
Reference
Edit
https://www.youtube.com/watch?v=VDU5A-4hAAs
https://www.youtube.com/watch?v=4mq1O3UUFyc
Community content is available under
CC-BY-SA
unless otherwise noted.