Spin me right round

Information
Style
Impact
Participants
Lee Dainton
First Appearance
Personal Lives
Last Appearance
Personal Lives
This was a minor stunt from series one featuring two of the Sanchez boys entertaining friends and family as well as the other Sanchez boys.
Recipe for disaster
Edit
Small man
Big man
Dizziness
Like a record baby right round
Edit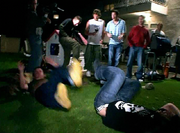 Dainton held Pancho by the legs and started spinning around. After a while Dainton had lost grip of Pancho and fell down while at the same time chucking Pancho into a dog.
Aftermath
Edit
Pancho landed on his head and also fell on a dog who squealed and barked at Pancho but didn't suffer any harm. Dainton was not hurt in the stunt and Pancho's head injuries were only minor.
Community content is available under
CC-BY-SA
unless otherwise noted.