The Dudesons

Information

No. of Series
Five
No. of Episodes
Forty-six
Running Time
25 min




Channel
MoonTV (FIN), Nelonen (FIN), Sub (FIN), Spike (USA), Channel V (AUS) TV 2 Zebra (NOR), MTV, OLN(CAN), Youtube




First aired
January 2001 or even earlier




Last aired
Still going



The Dudesons are a four-man stunt group from Finland. The Dudesons are best known from their TV shows and live performances. Their TV shows are combination of stunts, comedy and reality. They have appeared with Dirty Sanchez in only one episode, Dirty bets in Australia.
The performers are Jukka Hilden, Jarppi, HP and Jarno Laasala and have performed all over the world but mainly in Finland.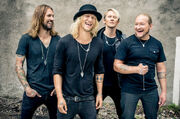 Similarly to Dirty Sanchez they are known to have done stunts that are more extreme than most stunts however never resort to piercing/gut wrenching stunts. They are known for being more "friendly" towards each other despite the multiple attempts of almost killing one another in death defying stunts.
Similarities to Dirty Sanchez
[
edit
|
edit source
]
They both started doing stunts before Jackass, however never filmed nor were they famous at the time. It was amateur.
Their stunts can often be life threatening.
Consists of only four members. In fact they share similar traits; One is short, one's a leader, one's a risk taker, one hates pain and only does stunts under his welcome.
Series one on both shows only centred in their home country whereas later on it becomes world wide.
Interviews in between stunts.
Made apperences on other shows.
Community content is available under
CC-BY-SA
unless otherwise noted.